The Tradition
Luminaries are one of the most beautiful sights of Christmas. They are candles contained in paper bags and placed outdoors along a sidewalk or other walkway. They glow when the candle is lit and are a beautiful simple way to spread the light of Christmas.
The tradition dates at least to early 17th century Spain. In one version, people burned cedar boughs along town paths, symbolically lighting the way to Bethlehem for Mary and Joseph. A slightly different version suggests that luminaria were intended to brighten the way for the Magi. The tradition is a feature of Christmas festivals in the American Southwest where Luminaria light the way to many Christmas celebrations.

The Candle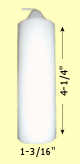 The Marlin Candle Company sells a specially formulated long burning luminary candle that utilizes high meltpoint wax that also meets an exceptionally high needle penetration specification. A high melt point plus the hardness of the wax insures that the candle will burn for 10 – 12 hours depending upon wind conditions.
The burning characteristics of Marlin candles are in direct opposition to the votive and tea-light candle substitutes most commonly used in luminary applications. The theory behind these two candles is to use low melt point wax that will quickly liquefy as a result of the heat from the flame. The liquid of the wax then sustains the flame and the heat is used to evaporate the liquid until all the wax is used. Votives are very effective when put in glass containers, but melt much too quickly when used in a luminary application and will not support a burn time of more than 5 hours from a 1" votive or 7-8 hours from a 2" votive. Tea-lights come with their own aluminum cup but due to the small amount of wax they will not burn outdoors for more than 3 to 4 hours.
In addition, the Marlin luminary candle is 4 ¼" high versus ¾" for a tea-light and 1" or 2" for a votive; therefore, the lighting of the luminary candle is much easier.

The Bags
The Marlin Candle Company offers a variety of decorative bag options.
Fire retardant / Die cut and Plain bags
These "Glo-thru" bags are constructed of fire retardant material and are available in green, white and red with a starburst die cut design or in a plain white design. The bags are 10 ½" high x 6" wide. These bags offer an upscale option to the more traditional white and brown bags used for Luminaria.
6-lb White bags
These bags have been used in the construction of lumiarias for years and provide a beautiful, but inexpensive option for your neighborhood or town Luminaria. The bags 10 ½" high x 6" wide.